Recordings of Cyril Scott's music for Cello
EMR CD031
Richard Jenkinson (vc) | Benjamin Frith (pf)

EAN 5 060263 500285
Audio CD (25 May 2015)
Number of Discs: 1
Label: EM Records
ASIN: B00XAGQRW6
This EM Records release of British cello music performed by the Jenkinson Frith Duo presents World Première recordings by Cyril Scott, Ivor Gurney and Ian Venables: Cyril Scott's monumental Cello Sonata is recorded here for the first time alongside Ivor Gurney's unpublished one-movement Cello Sonata in E minor.
Cyril Scott's Cello Sonata was composed in 1958 when the composer had just turned seventy; despite being a late work it is in no way autumnal, but is instead a dramatic four-movement piece that displays all the composer's mature fingerprints. Gurney's mantle as one of England's finest composers of art songs is now extending to his orchestral and chamber music, of which this sonata is a fine example. Ian Venables, like Gurney, has not only made song a central part of his output but has also composed chamber works of equal beauty and intensity. As well as the early 'Elegy' and the later 'Poem' the other three works featured on this disc are transcriptions of two of his most evocative songs and a rhapsodic paraphrase of the song, 'The Moon Sails Out'.
TRACK LISTING AND AUDIO EXTRACTS
Cyril Scott (1879–1970)
SONATA FOR CELLO AND PIANO (World Première recording)

1. I. Andante, rubato
2. II. Allegretto scherzando
3. III. Grave
4. IV. Rondo gioviàle animato

Ian Venables (b.1955)
5. 'AT MALVERN', op.24a (World Première recording)
6. 'ELEGY', op.2
7. 'THE MOON SAILS OUT', op.42 (World Première recording)
8. 'IT RAINS', op.33a (World Première recording)
9. 'POEM', op.29

Ivor Gurney (1890–1937)
10. SONATA IN E MINOR FOR CELLO AND PIANO
(World Première recording)

Cyril Scott
11. 'LULLABY', op.57 no.2

A highly rewarding double-disc collection. Bax's Sonata explodes with pent-up energy... Williams's rich, expansive sound is well caught.
EMR CD007-8 | CLASSICAL MUSIC

deeply committed and discriminating performances... Marshall-Luck's ability to spin cantabile lines with the subtlest of phrasal inflections pays dividends.
EMR CD006 | THE STRAD

If in any way you like English music then this disc is a must. Even if you don't, this disc is a must. In fact, you have little choice: buy it, please.
EMR CD005 | MUSICWEB INTERNATIONAL
Whether on violin or viola, Marshall-Luck plays with ideal purity over the widest range... Matthew Rickard's piano-playing is also impressive.
EMR CD003 | GRAMOPHONE

David Owen Norris's performances convey exactly the sense of contained delight I'm sure Quilter would have wanted.
EMR CD002 | BBC MUSIC MAGAZINE

an ideal combination of enterprising programming, some impressive musical archaeology, and superb playing.
EMR CD001 | INTERNATIONAL
RECORD REVIEW
Julian Lloyd Webber (Performer),
Edward Elgar (Composer),
Frederick Delius (Composer),
Percy Grainger(Composer),
George Dyson (Composer),
Gustav Holst (Composer),
Cyril Scott (Composer),
Henry Walford Davies (Composer),
John Ireland (Composer),
Sir Neville Marriner (Conductor)

Audio CD
Label: Kevin Mayhew
ASIN: B004Z7MSHC
Release Date: May 12, 2009
Duration: 01:17:01
Genre: Classical
Barcode: 5015959456520
Label: Meridian Records
AllMusic Review by Mike D. Brownell
Northern Lights, an album by cellist Emma Ferrand and pianist Jeremy Young, gets off on the right foot with a well-planned program of rarely (if ever) heard English cello sonatas. Tying all of these works together is the aftermath of the First World War and English cellist Carl Fuchs. Extremely active as a performer and pedagogue, Fuchs was a direct or indirect influence to each of the composers heard on this disc. The album opens with the surprisingly dark and ominous G minor Sonata of John Ireland, a work that will appear stunningly tumultuous and indulgent for listeners familiar with Ireland's more conservative vocal works. The disc continues with premiere recordings of a sonata by Edgar Baintonand a Ballade for Cello and Piano by Cyril Scott. Both of these works definitely lean toward the chromatically infused neo-Romantic, and, like the Ireland, are both rather indulgent compositions. By far the most successful and compelling piece on the program is the Rawsthorne Sonata.Rawsthorne's chamber music output was rather large, and this sonata demonstrates his keen insights into harmony and dialogue between the two instruments. Ferrand's performances of these somewhat obscure sonatas are good but not great. Intonation is often approximated and large shifts are completed with a slide so often that it becomes ineffective. Ferrand's sound is not as dominant as some might hope, often being obscured behind the piano. Still, cello enthusiasts will welcome the addition of new repertoire into their libraries.
English Idylls
Composer: Ralph Vaughan Williams, Edward Elgar, et al.
Conductor: Neville Marriner
Performer: Julian Lloyd Webber, John Birch, et al.
Label: Polygram Records - #442530
Audio CD (March 14, 1995)
ASIN: B00000419Z
Cyril Scott (1879-1970)
premiere recordings
Concerto for Cello and Orchestra (1937) 27:08
1 I Molto tranquillo - Misterioso - Allegro - Più tranquillo - 16:41
2 II Intermezzo pastorale. Andante molto sostenuto - 3:59
3 II Rondo giocoso. [ ] - Maestoso - Quasi cadenza - 6:22
Paul Watkins cello
Symphony No. 1 (1899) 30:44
in G major - in G-Dur - en sol majeur
for full orchestra
In the truest friendship and admiration of the poet Stefan George to whose art I am indebted for many of my best and most religious ideas
Third movement completed and edited by Leslie De'Ath
4 I Allegro frivolo. Andante - Allegro assai - 6:36
5 II Andante con moto - Grazioso - A tempo I 6:18
6 III Allegretto - Trio I. Poco meno mosso - 4:57
IV Finale
Tema con variazioni
7 [Tema.] Andante maestoso - 7:51
Variazione I. A tempo [Andante maestoso] -
Variazione II. Animato -
Variazione III. Allegro -
Variazione IV. Pochissimo più mosso -
Variazione V. Grazioso -
Variazione VI. Allegro con spirito -
Variazione VII. Adagio semplice -
Variazione VIII. Allegro marcato -
Variazione IX. Vivace -
Variazione X. Adagio lamentoso -
8 Finale. Molto moderato - 4:46
Fuga. Pochissimo più mosso - Andante
58:04
BBC Philharmonic
Martyn Brabbins
 
Cyril Scott
Quartet for Violin, Viola, Cello & Piano op.16 (1903)
Quintet for Piano, Two Violins, Viola & Cello (1926)

The London Piano Quartet:
Nona Liddell (violin)
Elizabeth Turnbull (viola)
David Kenedy (cello)
Philip Fowke (piano)

with Marilyn Taylor (violin)

Recorded at All Saints Church, East Finchley, London
11-13 June 2001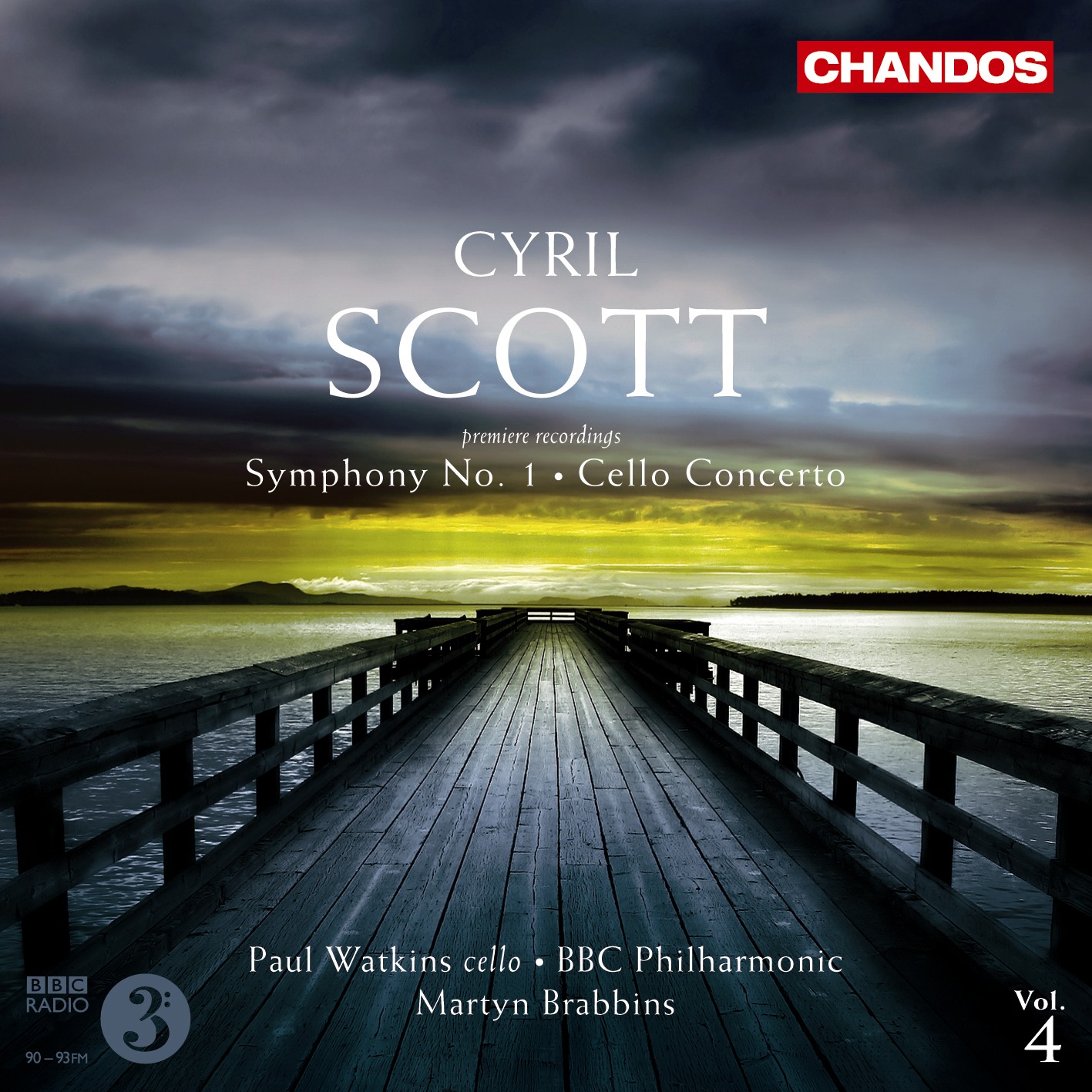 Cyril Scott (1879-1970)
premiere recordings
Concerto for Cello and Orchestra (1937) 27:08
1 I Molto tranquillo - Misterioso - Allegro - Più tranquillo - 16:41
2 II Intermezzo pastorale. Andante molto sostenuto - 3:59
3 II Rondo giocoso. [ ] - Maestoso - Quasi cadenza - 6:22
Paul Watkins cello
Symphony No. 1 (1899) 30:44
in G major - in G-Dur - en sol majeur
for full orchestra
In the truest friendship and admiration of the poet Stefan George to whose art I am indebted for many of my best and most religious ideas
Third movement completed and edited by Leslie De'Ath
4 I Allegro frivolo. Andante - Allegro assai - 6:36
5 II Andante con moto - Grazioso - A tempo I 6:18
6 III Allegretto - Trio I. Poco meno mosso - 4:57
IV Finale
Tema con variazioni
7 [Tema.] Andante maestoso - 7:51
Variazione I. A tempo [Andante maestoso] -
Variazione II. Animato -
Variazione III. Allegro -
Variazione IV. Pochissimo più mosso -
Variazione V. Grazioso -
Variazione VI. Allegro con spirito -
Variazione VII. Adagio semplice -
Variazione VIII. Allegro marcato -
Variazione IX. Vivace -
Variazione X. Adagio lamentoso -
8 Finale. Molto moderato - 4:46
Fuga. Pochissimo più mosso - Andante
58:04
BBC Philharmonic
Martyn Brabbins
Recorded in:
Studio 7, New Broadcasting House, Manchester
17 and 18 October 2007
Producer(s)
Brian Pidgeon
Mike George
Sound Engineer(s)
Stephen Rinker
Michael Smith (Assistant)
Format: Digital CD 16Bit 44.1Khz
Originally recorded in: 24Bit 96Khz
Cyril Scott
Quartet for Violin, Viola, Cello & Piano op.16 (1903)
Quintet for Piano, Two Violins, Viola & Cello (1926)

The London Piano Quartet:
Nona Liddell (violin)
Elizabeth Turnbull (viola)
David Kenedy (cello)
Philip Fowke (piano)

with Marilyn Taylor (violin)

Recorded at All Saints Church, East Finchley, London
11-13 June 2001

CDLX 7116
https://itunes.apple.com/gb/album/scott-quartet-op.-16-for-violin/id614827200?uo=4